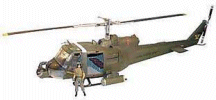 The forth Company Commander, [May '67 - 'Sep '67] Major Jack P. Doyle,
surreptitiously converted the Buc platoon UH-1B's, originally equipped with the 540 rotor system,
from the 900hp tyrbine engine to the 1100hp engine. And eventually the M-16 quad machine gun and rocket
systems were traded for the mini guns and rockets or the 40mm cannon of the UH-1C.
This allowed the Bucs, with their heavily loaded armed helicopters, to take off with the UH-1D slicks, at least
until the transport helicopters converted to UH-1H with the 1300hp engine. The high-density altitude of the
mountains of Laos, Cambodia, and the Vietnamese Central Highlands made flying conditions extremely
challenging when compounded by heavily loaded aircraft and enemy forces.