Richard C. Hale
1946-2006
Rich enlisted in the US ARMY in 1967. He received basic training at Fort Leonard Wood, MO and AIT at Fort Eustis, VA. Rich was then stationed in Viet Nam from January 1968-January 1969. While stationed in Viet Nam Rich also worked briefly at Bam Be Thout and Don Ba Thin. After serving 1 year in Viet Nam as a helicopter mechanic he was then stationed at Fort Hood, Texas. For a short time he was assigned to a motor pool with the 47th Medical Battalion at Fort Hood, Texas. After discovering Gray Army Air Base across the road from Fort Hood he asked to be reassigned over there. May 23, 1969 Rich was assigned to the 181st Av. Co., 55th Aviation Battalion at Ft. Hood. He remained at Gray Army Air Base until his discharge on June 4, 1970.
Dec. 6, 1969 Rich received a Letter of Appreciation for his outstanding performance as Senior Helicopter Mechanic signed by CPT Benny J. Archuleta, Maintenance Officer. May 20, 1970 Rich received a letter of Commendation for excellent performance as a maintenance crew leader signed by CPT. Randall P. Smith, Service Platoon Leader.
Rich had a love for flying most of his life. As a child he went to the Monmouth Airport in Monmouth, IL and viewed a Ford Tri Motor plane. He spoke of this memory fondly many times through the years. Rich also flew radio controlled planes during his youth. In the early 1980's he obtained his private pilot license. In the 1980's or 1990's he joined EAA and became a member of Chapter 350 EAA Monmouth, IL. and remained an EAA member until his death. He served in the various offices of Chapter 350. Most notably he served as their President several times. Chapter 350 also was involved with North Central EAA for many years and Rich served on their board of directors.
Rich and another member of Chapter 350 became partners in the purchase and restoration of an experimental airplane. Unfortunately, the plane was not finished and flyable before Rich passed. His partner now owns this plane and plans to finish it.
A special highlight of our lives was our ride in a hot air balloon on September 24, 2002. This was fantastic. For several years there has been a hot air balloon festival in our area. Rich was delighted to take the grandchildren to see the balloons especially in the evening when they had the "glow". Our children and grandchildren also enjoy the model railroad and trains that Rich built.
The annual Stearman Fly-In: Rich always took a week of vacation at this time. He was either manning an EAA booth, parking airplanes, or just walking amongst the planes and people having a great time. We really enjoyed the "Big Band", dinner, and dance held at the airport hangar. Rich didn't dance but he did admire those who could "shake a leg".
There really wasn't much Rich didn't like in life. Almost anywhere anytime someone wanted to go and do something he was ready. When our children were young we went camping a lot (using our Coachmen fold down tent camper). We went to a lot of amusement parks, school functions. He helped with the boy scouts. Rich was always helping with the big family dinners. One regret he had was selling the 1957 Chevy Impala Convertible that he once owned. It was light lavender in color. Many times he tried to track it down.
Rich was diagnosed with small cell carcinoma (a very fast growing lung cancer) in December 2005. Without chemo he might have 6 months left to live or with chemo maybe 18 months. Rich chose to have the chemo. In April 2006 we were told that he was in remission and maybe might live 3 years. That was not to be. In June the cancer had spread to his brain and in July to his liver. While in the hospital most of what Rich talked about was flying, airplanes, and airports. Rich spent a month in a care center where he received physical therapy. He worked so very hard at the therapy and had a positive attitude (or was it denial?). Our son made arrangements for Rich and all of our grandchildren to fly together one last time. In August 2006 Rich, myself, our daughter in law, all 6 grandchildren, and a great nephew flew over our local city and surrounding area. This was the first flight for 4 of our grandchildren.
It was a magnificent day!
Everyone loved Rich. He was a loving husband, proud father, and doting grandfather. He was the kind of grandfather that all children would love to have. How appropriate that he passed away when the biplanes were arriving in town for the Stearman Fly-In.
I'm sure he caught a ride to heaven on the wings of a biplane.
Rich passed away on September 3, 2006. He was honored by the Patriot Guards who stood guard during his funeral service and escorted him to his final resting place. The Stearmen also flew the missing man formation. A Veterans Memorial was completed in 2007 and was dedicated to all Knox County, IL veterans on Memorial Day. Rich's name can be found there.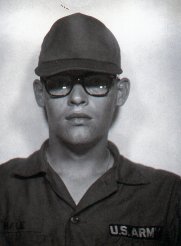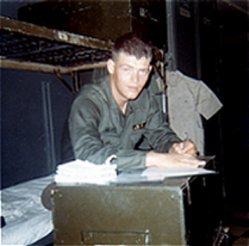 | | | |
| --- | --- | --- |
| 1967 - Basic at Fort Leonard Wood | | 1967 - AIT at Fort Eustis |