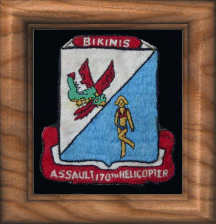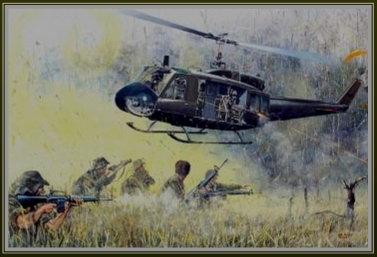 Joe Klines "God's Own Lunatics", "God's Own Lunatics" is the phrase made famous by noted and author Joe Galloway, as a description of respect and admiration for helicopter crews, and their willingness to go anywhere, anytime, in support of ground combat forces. Galloway witnessed this dedication first-hand during the Battle of Ia Drang in 1965. In this print, the artist has captured the teamwork, commitment and devotion to duty required to complete the mission of extracting a Long Range Reconnaissance Patrol under heavy enemy Fire.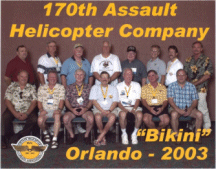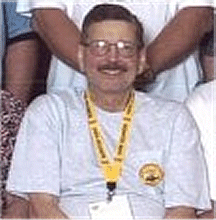 Brian McAteer - Bikini 18
VHPA Reunion, 2003
Orlando, Florida
Brian P McAteer
1944-2007

Dear Gentlemen, I received your notice today about the reunion to be held in Bridgeton, Missouri August 7th through the 10th. I wanted to let you know that Brian passed away on September 23, 2007 as a result of complications due to his heart transplant. Last February, he had celebrated the 10th anniversary of his heart transplant. Brian was a senior at Georgian Court University and had hoped to teach history. My husband was our 16 yr old grandson's hero. In honor of his 'pop-pop', Michael advocated at school to be allowed to study Asian history this year (as a sophmore), in addition to his required history. This is generally offered only to juniors and seniors. Mike promised his grandfather he would 'ace' the course...and he is doing just that. My Brian was only 63 years old when he died. He was my hero too.
Sincerely, Maureen McAteer
---
Maureen, Thank You for taking the time to update the 170th about Brian. My task of mailing out the Reunion Postcards is dampened by the fact that each year many are no longer with us.
I will update the 170th Web Roster to show:
McAteer Brian P O 67 170th AHC (Died after Tour) 09/07
and if you have anything that you want posted in his memory on the 170th web site please just let me know. The gathering in St Louis is open to all that would like to attend and you are welcome to come to the Video Premier and meet those from the 170th and other units of 52nd Battalion that the 170th was a part of. And if that is not possible, know that a documentary will be available someday soon that gets the 170th story told. Bikini Beach - The 170th AHC is the documentary title
The 170th.org web site would be best place to check on it or just email me for the latest status.
Brian was before my timeframe with the 170th, but having met members from all timerames of 170th existance (65-71) I know we all flew and experience the same dangers regardless of the dates listed. Each Reunion has a Missing Man table setup - and I'll make sure its noted that Brian is there in spirit...
Again, We appreciate your update... My best wishes, Henry
Henry Winther 170th Assault Helicopter Company 1st Flight Crewchief Kontum '70-'71
---
Henry, Thank you so much for answering my email. My husband loved the 170th and often used "Bikini18" as his password, when one was needed. At one of the VHPA reunions, he purchased a picture - God's Own Lunatics - and had the 170th written on the side of the helicopter, as well as Bikini 18. When he died, it was a very difficult task to write an obituary - or to share things with our pastor to say at the service. How do you sum up someone's life in a couple of paragraphs? I am attaching what I gave our pastor and would be very grateful if you could put a little something about my husband on the 170th website. Perhaps you can gain something about his character from my words, though they do not do him justice. The night before he died, Brian kept saying "you can never leave anyone behind" and he kept repeating that I should have courage. I asked him where? He said "In Viet Nam, of course".
God bless you all, Maureen McAteer

---
Obituary

Dear Pastor Tim, I was thinking about Brian's life and how to put into words the story of his life.
I realized it didn't matter where he was born, but what kind of a man he was.

Brian was the bravest man I have ever known. He was the type of man that if you told him he couldn't do something, he would show you he could. When he was in the army, he was a crew chief and thought about being a pilot. He was told by those who knew him that he could never make it. That was all he had to hear. He not only became a helicopter pilot, but spent much of his 8 years in the service flying combat missions in Viet Nam, under enemy fire, to rescue wounded soldiers - and bring out these troops while keeping his own crew safe. He was shot down three times; was shot in the leg through the helicopter; broke his back in a helicopter crash - and never lost one of his crew. He was a drug officer during the Viet Nam conflict and was instrumental in getting his unit involved in helping the local orphanage there with donations of time and money. He won numerous medals, including 2 purple hearts. He was so very proud of serving his country. He was a member of the Viet Nam Helicopter Pilot's Association.

We were only married a couple of years when Brian had a heart attack. This was followed by years of physical suffering for him with the heart transplant and multiple medical complications. The amount of pills he had to take each day was staggering and I don't think there were many days without pain. He never complained. He never complained about his pain, his suffering, the fact that he was so tired at night, but couldn't go to sleep. He felt "you do what you have to do". I couldn't count the number of surgeries or hospitalizations he has had since 1993 and when I would ask how he could go through all of this, he would again say "you do what you have to do". I would tell him that I couldn't do it and he would tell me "you don't know what you can do until you are faced with it". He believed he made it through his surgeries and setbacks for a reason and used to say "there must be a reason I'm still here".

Education was very important to Brian and he always regretted not finishing college. Several years ago, Brian started attending Georgian Court University. He would study and take great care in doing his papers, always choosing the more difficult topics. He was an A student and I was so proud of him as he walked up to receive his honor at the convocation - trying to keep up with those young students with their quick pace. But they made sure they waited for Brian. One time a student who was concerned about the upcoming exam was talking to Brian and he was trying to reassure her that she would do great. She said to him "Easy for you to say, you're the smartest person in the class!". He was so close to becoming a senior and had hopes of reaching young minds with his love for history as their teacher. He did very much effect one young mind - that of his only grandson, Michael. He took Michael to the helicopter pilot's reunion in Dallas and in Washington and was looking forward to taking him to the 2009 reunion in Philadelphia. Brian was Michael's hero and had recently decided he wanted to redo his bedroom to honor all the branches of the military. Michael is also the youngest student in his school to take Asian history, in addition to his required sophomore history, and advocated for this with his guidance counselor. He wanted to learn more about the Viet Nam conflict and told his pop pop that he would 'ace' the course. Michael has also talked about the possibility of becoming a history teacher. He loved his grandfather so very much.

Brian was an honorable man, who always believed in doing the right thing.
He was a devoted husband, my protector and my prince charming.
---

Information is from email notification of Brian's passing and request for 170th web page memorial