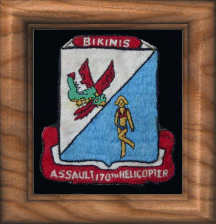 Carl R. Jones
Carl Jones, Joker 1, was the beginning of long a line of Joker gunship pilots.
Carl served three combat tours, one in Korea and two in Vietnam.
Carl joined the Army in February of 1951. At the time, the Army needed black officers, and Carl was sent to the Armor Officer's Candidate School in Fort Knox, Kentucky. He was commissioned a 2nd Lieutenant, Armor Branch, where he was a tank platoon leader and paratrooper. (The Army also wanted him for his skill as a football player!)
But tanks were not his thing.... he wanted to fly!
He was able to attend the Fixed Wing Aviation Course in Fort Sill, Oklahoma. His class was told, outright, that one black would graduate from the class to become a pilot. Luckily for Carl, the top black in the class (an experienced World War II warrant office) had an emergency appendectomy, so Carl became the one black pilot.
Carl was in the Army on Desegregation Day...... Seems so long ago, doesn't it?
While home on leave after flight school, the Armistice was declared in Korea,
although it was still considered combat duty when he arrived.
He left the Army in 1954 as a 1st Lieutenant. He rose to Captain in the National Guard and Reserves, while working as a policeman in the Columbus, Ohio, Police Department, and playing football for Woody Hayes at Ohio State University.
It was in the Reserves that he met his true love ...... helicopters!
Carl returned to active duty in the Army in 1962, rising to Captain. He served with the 2nd Artillery in Baumholder, Germany, from July, 1964, to October, 1965.
His first tour in Vietnam was from November of 1965 to October of 1966, where he served in the 48th as the Gun Platoon Leader, Joker 1.
From October of 1966 to April of 1968, he was Assistant Division Aviation Officer for the Hqs. 8th Infantry Division in BAD Kreusnach, Germany, rising to the rank of Major.
His second tour in Vietnam was from May of 1968 to May of 1969, when he served as Commanding Officer of the 170th Assault Helicopter Company.
Carl left the service in 1973 to attended law school earning his Juris Doctor degree at age 52.